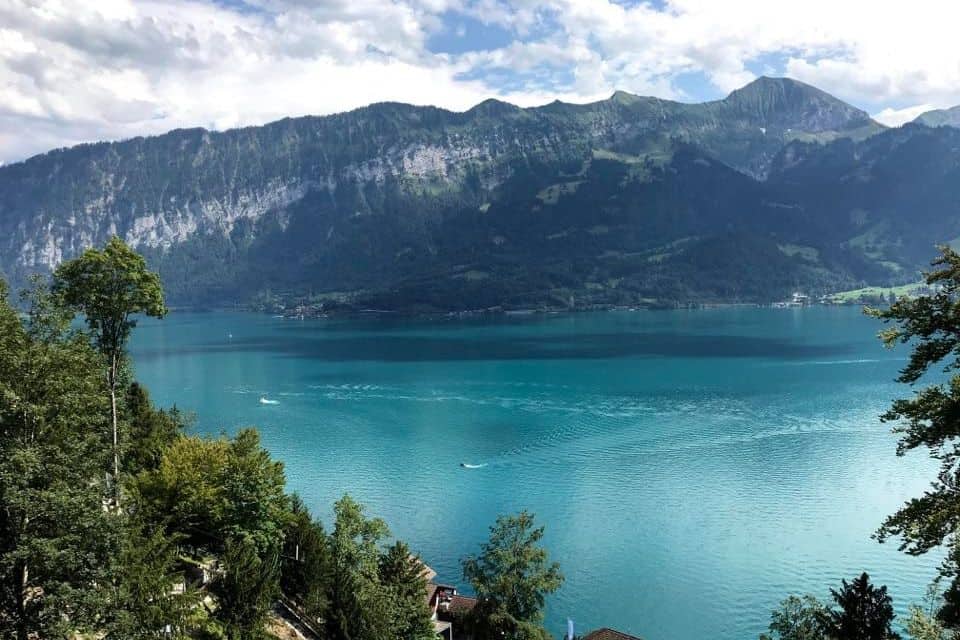 Moving to another country is a major decision, and finding the right location requires a lot of research. It can also involve some trial and error to figure out if the country you chose is a fit for you and your family over the long term.
If you have any doubts about that reality, ask Jay-Ar Libunao, an Air Force retiree who moved to Fleurier, Switzerland in February 2022 with his wife and two young children. While they love their life in Fleurier, a small town only a few miles from the Swiss border with France, they are already planning another move less than a year later.
In this personal Q&A with Jay-Ar, part of our Expat Retiree Interview Series, find out how he and his wife chose Switzerland and why it's a great place to raise kids, but not the right spot for their family over the long term.
Why did you decide to move overseas after military retirement, and how did you choose Switzerland?
I spent most of my career overseas and loved every minute of it. I was blessed to travel all over the world via deployments, temporary duty assignments, and personal leisure travel.
My non-military wife followed me all over, so it's only fair for me to go where she wants to live. It just so happens that she was born and raised in Switzerland (she holds triple citizenship: U.S., Switzerland, and Spain).
While we were still in the U.S. we started looking into many countries in Europe.
First, it was Germany since we own a house there near Spangdahlem Air Base. Then, we thought of Italy, since we really love visiting that country, especially the Lake Como area. We also thought about England due to the language.
| Related Reading: Retiring in Italy After the Military
After weighing all of the pros and cons as well as researching how I, the American citizen, could stay in whatever European country we chose, the easiest and fastest place for me to legally move was Switzerland.
We chose Fleurier because it's where my wife grew up. The majority of her family, including her parents and brother, still lives here.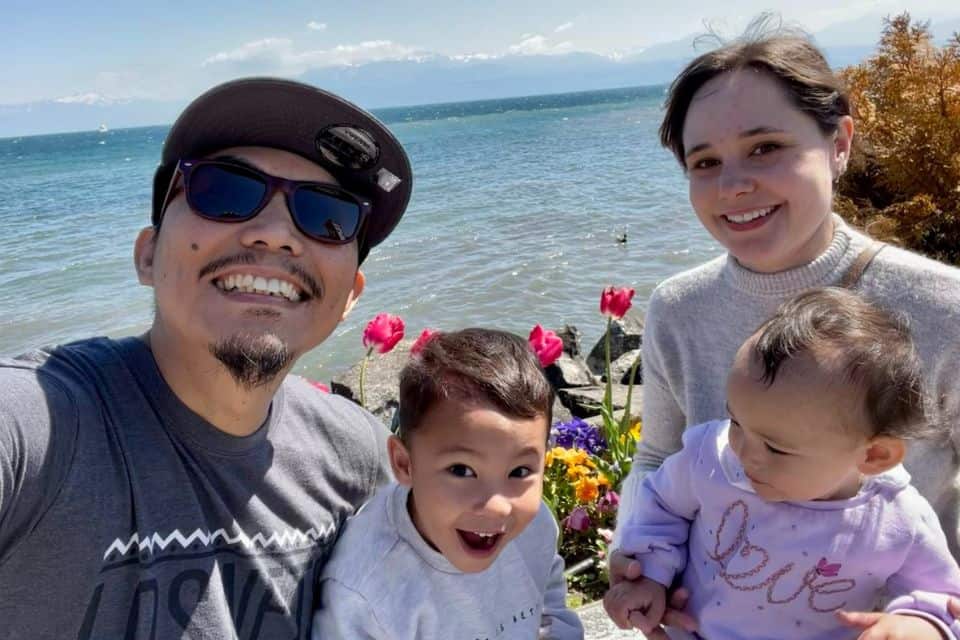 Tell us about the process for obtaining your Swiss residence visa.
The first step was to contact the Consulate General of Switzerland in Atlanta via e-mail to receive instructions on how to obtain the Family Reunification Visa (also called the "Permit B") for me. They were very quick to respond.
Then, we gathered and sent the required documents via mail (my spouse's proof of Swiss citizenship, proof of marriage, proof of income showing we will not be a burden to Switzerland, etc.) for the initial approval.
This step required lots of back-and-forth between the Consulate, the immigration authorities in the canton (district) of Neuchâtel, where we settled, and ourselves. It took about a month.
After they reviewed all of our documents and gave us the initial approval, I was asked to submit my U.S. passport to have the Swiss Visa stamped into it. The visa was only for 90 days, so I was required to enter Switzerland before it expired and register at the Neuchâtel immigration authority.
After arriving in Switzerland, I immediately registered at our village (Fleurier), which in turn sent my registration to Neuchâtel.
Two weeks later, I was given an appointment at the canton of Neuchâtel immigration office to formally register as a Permit B resident (must re-register annually). The county then mailed my Permit B ID card to the Village Townhall within 2 weeks and that's where we picked it up.
The visa was free. Mailing back and forth costs the most, approximately $200, and the Permit B ID, I don't remember, but not much.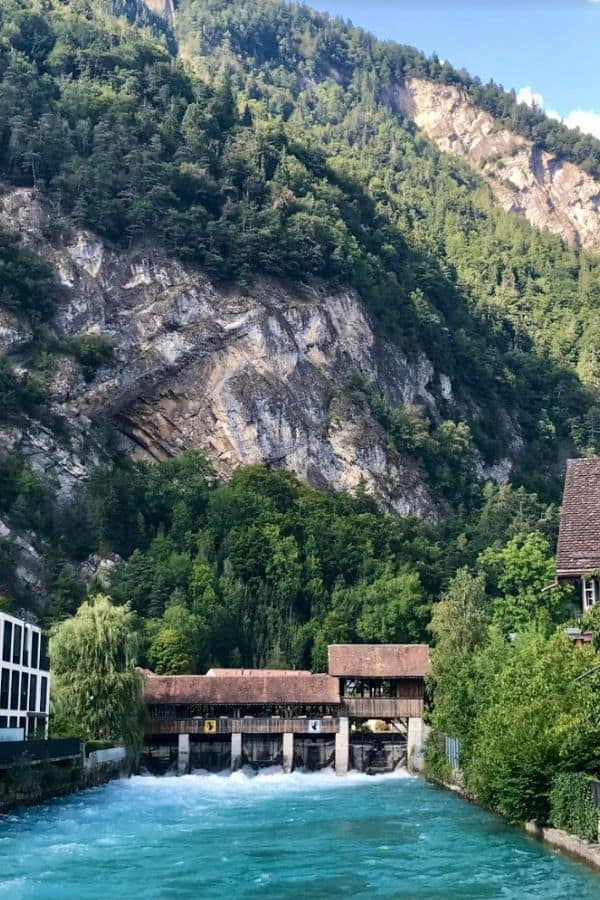 Now that you have that residence visa, can you work in Switzerland, use public health care, etc.? And do you need to do anything else to have long-term residence?
I'm allowed to work but chose not to at this time.
Switzerland accepted TRICARE Overseas as our medical insurance, so we're able to go wherever we want and get reimbursed for any care rendered. If they had not accepted TRICARE, we would have been required to pay for Swiss Compulsory Medical Insurance which, for a family of 4, would have cost us at least $1K monthly.
| Related Reading: How to Use Your TRICARE Coverage Overseas
I was also able to get my Texas Driver's License (Auto & Motorcycle) exchanged for a Swiss Driver's license without taking any written or driving tests.
As far as long-term residence, I would need to renew annually and after 5 years, I could apply for the Permit C, which is the permanent resident ID card.
How does the cost of living in Switzerland compare to the U.S.?
Cost of living depends largely on the canton (for tax purposes) and whether you want you live in the city or the countryside (the city, of course, is more expensive).
Neuchâtel is one of the most expensive cantons to live in tax-wise, but our village is more affordable than other places in Switzerland.
A family of four with a 3 BR apartment and one vehicle would need at least $4,500/month to live paycheck to paycheck. To live comfortably, you would need at least $6K each month to afford eating out and a little vacation.
A simple restaurant costs you at least $100 for two people for a 3-course meal with a non-alcoholic drink. A beer would cost you $5 for a small bottle. McDonald's Happy Meal is about $15.
Cell phone plans are cheaper than the U.S. We pay $45 per line for unlimited calls, text, and data anywhere to and from Europe/U.S./Canada/some Asian Countries.
Other utilities, such as water, gas/oil are usually included in the rent, and the electricity bill is about $50 monthly.
Since we are close to France (20 minutes to Pontarlier, France) we usually do our major grocery shopping there. As long as our grocery bill is within the Swiss Customs limitation, we don't need to pay import tax. Grocery shopping in Switzerland is quite pricey (double to triple the price when compared to France).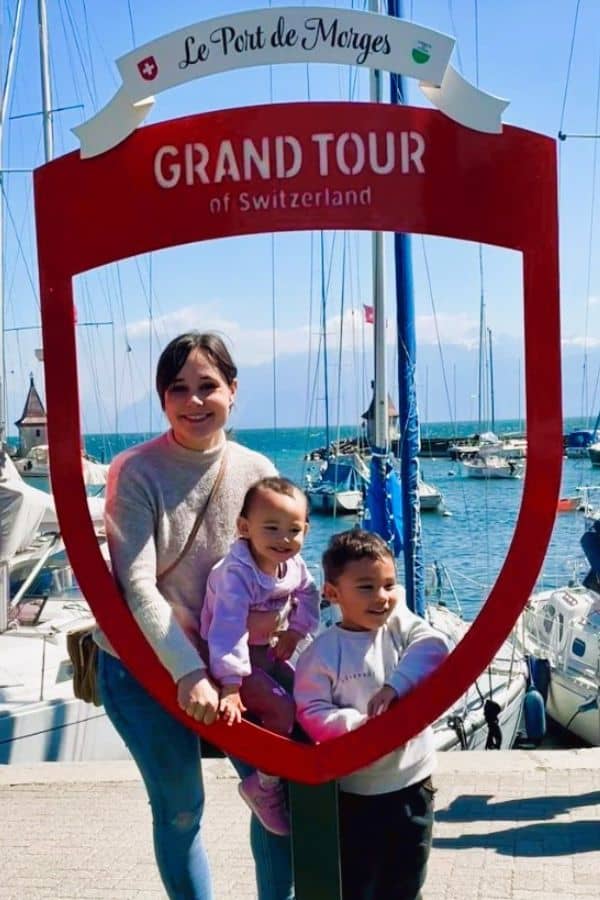 The most expensive bill for us is the auto insurance at approximately $2,500 yearly. We have a Volvo XC90 and because of its large size, we pay more.
In general, health care is cheaper than in the U.S. As I mentioned above, with TRICARE we can go anywhere we want.
When my children caught a bad virus, we went to the local hospital and paid about $300 each for the visit, doctor fee, extensive lab tests and medications.
At the local family doctor, we paid about $100 for the visit, doctor fee, and medications.
Does Switzerland tax your military retirement or other income?
Both my retirement and VA disability pay are taxed here. The county taxes 2/3 of my total earnings, not the entire thing.
Tell us about your daily life! What do you like about living in Switzerland?
Our daily lives consist of many scenic walks, family time to visit many free playgrounds, and simple, quiet living. My 4-yr old son recently started public school twice a week.
Fleurier has everything (school, grocery, restaurants, bakery, banks, shops, train station, butcher, etc.), so we really don't need to go anywhere else.
Life overseas, specifically in Switzerland, is much calmer and safer when compared to anywhere I have lived in the U.S.
People seem to have a more tight-knit family and more time for each other. They may work hard, but when it's time to take a vacation, they truly detach themselves fully from their work. Even during the work week, many places close for a 2-hour lunch.
It's a great place to raise children because it's very peaceful, everyone is friendly and knows each other, and most importantly, it's a very safe place to live.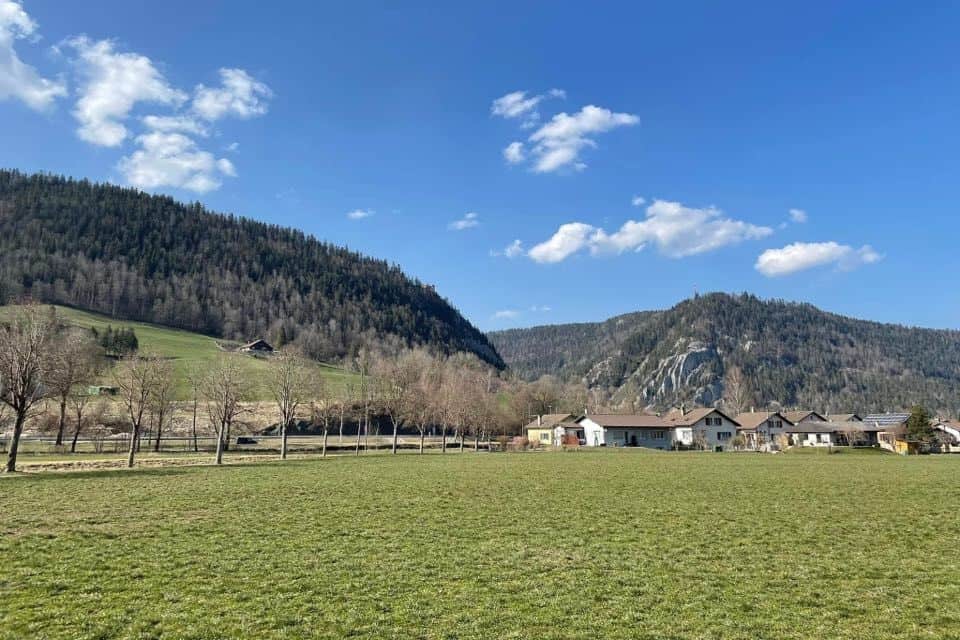 What are some of the challenges of living in Switzerland?
Language is one. I don't speak French, but many people speak English (or at least try to speak it), especially the younger generation. It will be better when I learn the language, so my wife doesn't always need to translate.
Also, there are some cultural norms that I'm not used to as an American.
For example, the time it takes to respond to an inquiry and the bottleneck procedures with only one person knowing what to do, so when that person is not there, you're stuck. They are also very strict with their rules and ways of doing business, even if some of them are outdated (e.g., using paper rather than electronic means).
Of course, the high cost of living is a challenge.
Given the high cost of living, is it sustainable for your family to stay in Switzerland? What are your longer-term plans?
When we decided to live in Switzerland, we wanted to see what it was like before deciding to either stay here for good or move elsewhere in Europe after a year or two.
When we opened our bank accounts, we inquired about purchasing a house. My condition with my wife is that I don't want to live in an apartment all my life and would prefer to have our own detached house.
We found out that buying a house in Switzerland would be very difficult. It would require a large down payment. Also, qualifying with only my retirement/disability income, we were limited to a bank loan of only 600K Swiss Francs.
This amount would not get us a decent house here. So, besides the 20% down payment, we also would need to come up with any additional amount over the 600K.
The cheapest house we found here that would fit our family and was decent enough to not require a lot of renovation was at least 800K. That's when we knew our stay in Switzerland was only temporary.
Across the border in France (30 minutes' drive from where we live now), there are houses we like that cost between €300K to €500 and are more modern and spacious.
If we go farther inland in France, €500K can buy a mansion with a pool. France also doesn't need 20% down payment. Plus, according to my research, France has a tax-treaty with the U.S., which means they won't tax my retirement/disability.
Earlier this year, in order to get interview experience, I applied for multiple government civilian jobs and unexpectedly was offered a wonderful opportunity to serve our country again.
I am now in the process of onboarding and will move to the UK by the end of the year. My family will stay in Switzerland temporarily but will eventually follow me to my new employment location.
The UK is where my wife and I met and got married. That was one of the main reasons why I was able to convince her that I should accept this job.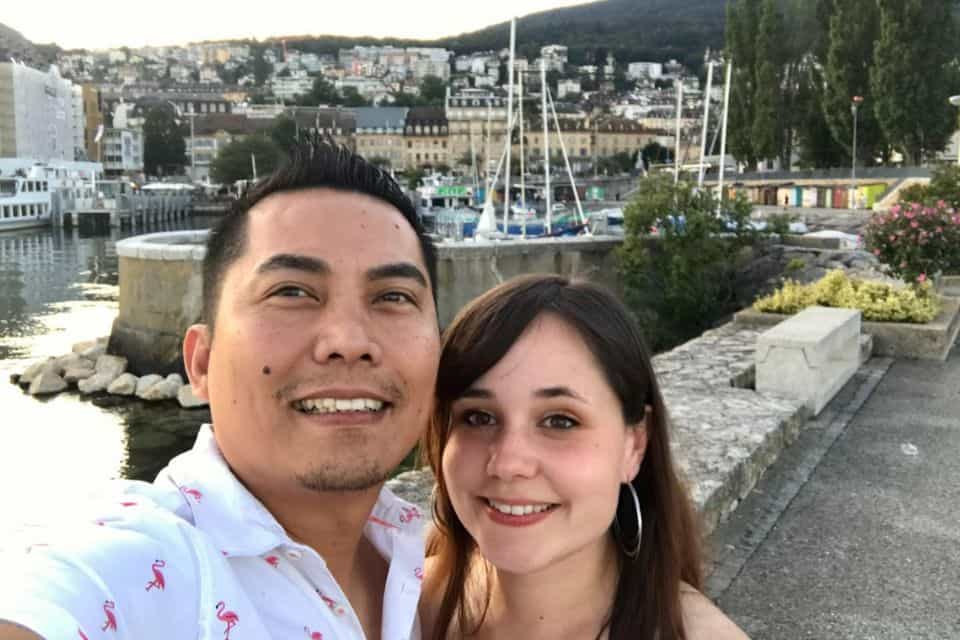 Also, we agreed on a pretty solid plan. I will only do this gig in the UK for 3 years (the length of a regular overseas GS position) or 5 years (if extended).
Our goal now is to save as much money as we can from this job and my retirement/disability pay. Then, we will buy or build the best house we can afford in France (maximum 1 hour drive away from my in-laws in Switzerland) and live happily ever after as full-time parents/retirees.
What advice would you give to anyone who is thinking of moving abroad? Do you have any specific advice for Switzerland?
Before moving, pay off all debt or as much as possible, and make sure you have at least 6 months of savings.
Get rid of your big American furniture.
Learn the language as soon as you know where you want to live, and spend a month or two there, immersing yourself in the local things and not the touristic stuff.
| Related Reading: 24 Questions You Must Research When Deciding Where to Live Overseas
Specifically for Switzerland, play the lotto and pray you win, LOL!
No seriously, as a retiree it is possible to live here, but you just have to be mindful of what you want vs. what you need and what part of the country you want to live in.
I honestly think that if it wasn't for my hardline desire to own a house, it would have been sustainable to live in Switzerland. We're doing well, even with just my retirement/disability income.
* * *
Is Your First Move Overseas Your Last?
As Jay-Ar's experience shows, your first move overseas could serve as an interim stop on the path to finding your "forever" home! Even with tons of advance research and time visiting the country, you won't know for sure that you've chosen the right place until you get there and truly experience life as a resident
Our advice after living in Japan and Spain? Stay light on your feet until you know for sure where you want to settle, and make sure you give each location a chance. It takes time to work through the initial challenges that are inevitable when moving to another country. Most of all, enjoy the journey!
For more experiences and advice about moving overseas, read the rest of our Expat Retiree Interviews!
All photos courtesy of Jay-Ar Libunao.