If you're looking for an affordable location that offers modern conveniences, easy access to the rest of Europe, and many options for residence visas, Romania fits the bill. With a high quality of life, low cost of living, vibrant cities, and incredible nature, this beautiful country in Eastern Europe has much to offer potential expats.
U.S. Army veteran Randy Surles moved to the city of Cluj when he retired from the military in 2019, and life in Romania has suited him well. In this detailed Q&A, part of our Expat Retiree Interview Series, find out how Randy moved to Romania, what life is like, and why Romania is becoming an increasingly popular destination for digital nomads, international students, and expats alike.
Contents (click to expand)
Why did you decide to live overseas after military retirement, and how did you choose Romania?
I grew up living overseas. When I was in third grade my family moved to Iran, where we were evacuated from the country in 1978 (as shown in the movie Argo). Then, we moved to the Netherlands for about 5 years, and then to London, where I graduated high school.
I joined the military to travel because I really enjoyed my childhood overseas. After traveling with the military throughout South America, Africa, and the Middle East, I didn't make it back to Europe until my final assignment to Vicenza, Italy, where I spent almost 4 years.
During my final year in the military, in the summer of 2018, I decided to hike the Camino de Santiago to spend some time alone and figure out what I wanted to do with the rest of my life. During the hike, I met my girlfriend, who is now my fiancé. She is Romanian and Hungarian. So, it only made sense 9 months later to move to Romania.
Why did you choose the city of Cluj?
My fiancé and her extended family lived in Cluj, so it made sense at the time. Cluj is the second largest city in Romania and a big college town. It is very modern and has a lot of amenities.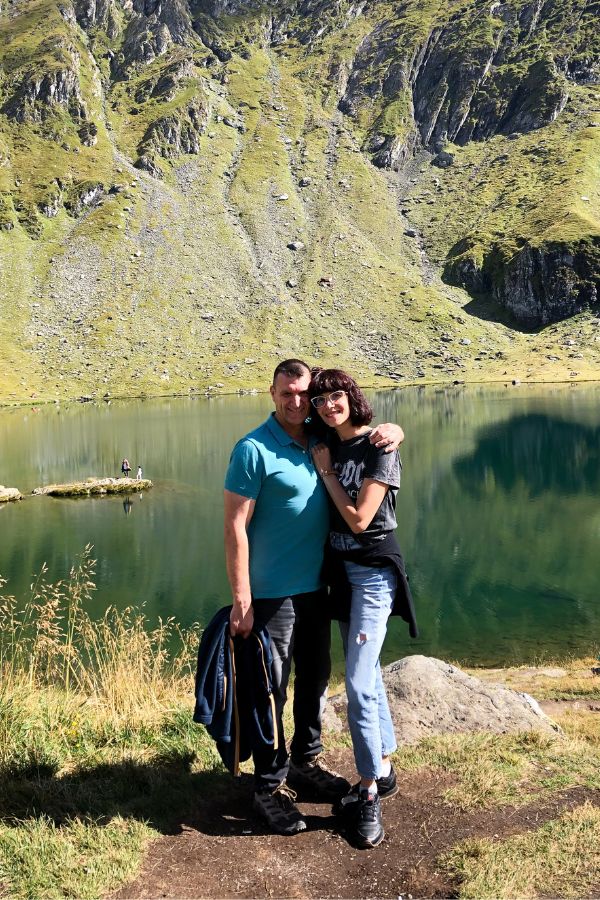 Tell us about the process of applying for your residence visa to live in Romania.
Even though Romania is not yet part of the Schengen Area, like many European countries, no tourist visa is required for American passport holders. When I came initially, I was allowed to stay for 3 months' time every 6 months (similar to the Schengen requirements).
When I decided to stay longer, I began doing my research and even toyed with the idea of hiring an immigration lawyer in Bucharest (they wanted to charge me about $1,000). I decided to give it a go on my own, just to see what would happen.
Unlike many other European countries, it is perfectly acceptable to apply for a long stay visa while you are in Romania. Many other countries require that you apply through their embassy in your home country.
The Romanian Ministry of Foreign Affairs has a website in English to help with the process, and I applied for the long stay visa.
When I first applied in 2019, everything had to be done on paper and then brought into a local branch office of the Romanian Office for Immigration. You had to take a ticket and wait for a few hours for an interview and verification of your documents.
Starting in 2020, everything moved online and all documents are submitted electronically for verification. Then, the Office for Immigration sends the applicant an appointment date and time.
There are several long stay visa categories, each of which require different documentation:
Economic activities
Professional activities
Commercial activities
Employment activities
Secondment
Studies
Family Reunification
Religious activities
Scientific research
Other Purposes that are not in breach of the Romanian Laws
Since I had my military retirement and I didn't have a job when I first applied, I applied for the Other Purposes visa.
The requirements were pretty simple. I bought some Romanian private health insurance for about $200 annual, and I got a physical ($50). I also had to pay for a 1-year contract on an apartment and write a letter stating my purpose. Finally, I had to show that I made three times the minimum wage (about $1,200/month).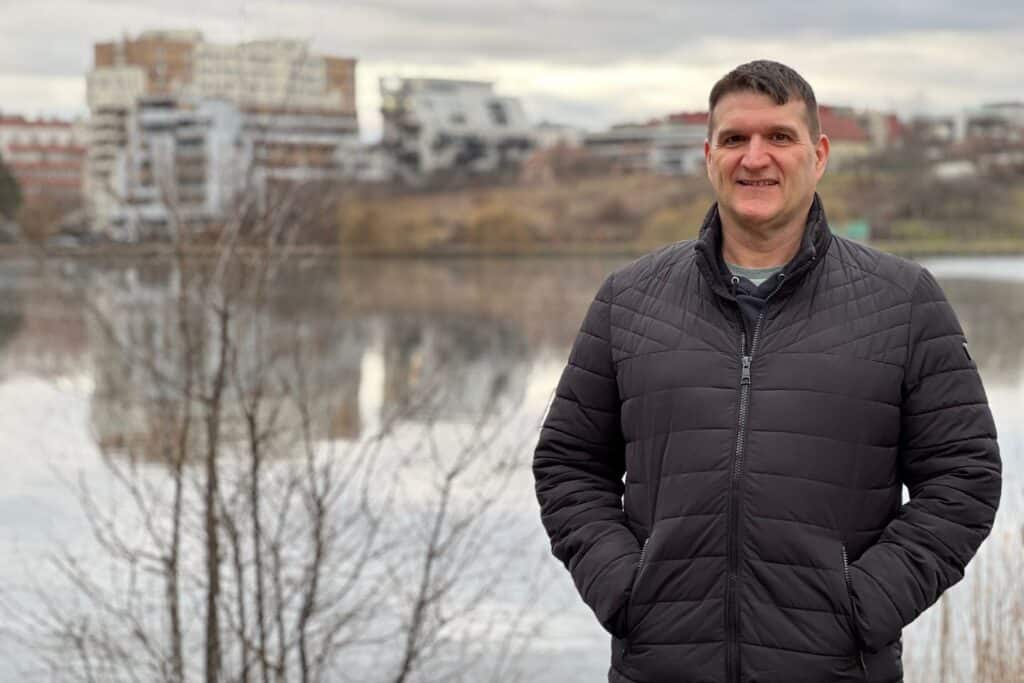 It took me about a week to get everything in order. I turned in the documents at the Office for Immigration, which is located in the most popular mall in Cluj, Iulius Mall.
My interview was basically a review of my paperwork. At my first interview, before the online submission was possible, they turned me away and asked for different documents for proof of residence. With the online verification, I've never been turned away in the last 3 years.
Additionally, the first time I applied, I had to defend my statement of purpose. I wrote that I was an author (I had self-published two books on Amazon) and that I planned on becoming a freelance editor (though I hadn't earned any money doing that at the time).
I then pointed out that my retirement more than covered the minimum. I had about a 30 minute discussion about the fact that my purpose wasn't one listed in their guide, to which I pointed out "Other Purposes that are not in breach of the Romanian Laws." The woman insisted I needed a purpose; I couldn't just exist in the country without a purpose.
Finally, the supervisor came out and asked what was going on. I explained it to him, the woman again stated I had no purpose, and he pointed out that my purpose was "Other." I only tell you this because it pays to read all the rules, stay calm, and stick to your guns.
The last 3 years, I used the "Other" visa category, kept the same purpose, and was never questioned again. Also, in 2022 the Romanian government authorized a digital nomad clause in the "Other" section, so it should be easier in the future.
After all my documents were verified and approved, they took a photo and told me to come back in 30 days. My 1-year resident card was waiting for me 30 days later. I've renewed for the last 3 years without a problem.
How does the cost of living in Romania compare to the United States?
Romania is not part of the Eurozone, however many things (such as my rent) are negotiated and contracted in Euros.
The cost of living is significantly lower than the U.S. My one-bedroom apartment with modern appliances (dishwasher, microwave, medium size refrigerator, washing machine but no dryer) was 550 euros. It was in a nice part of Cluj (about 30 min walk from the center of town), which is the second largest city in the country and considered more expensive than Bucharest, the capital of Romania.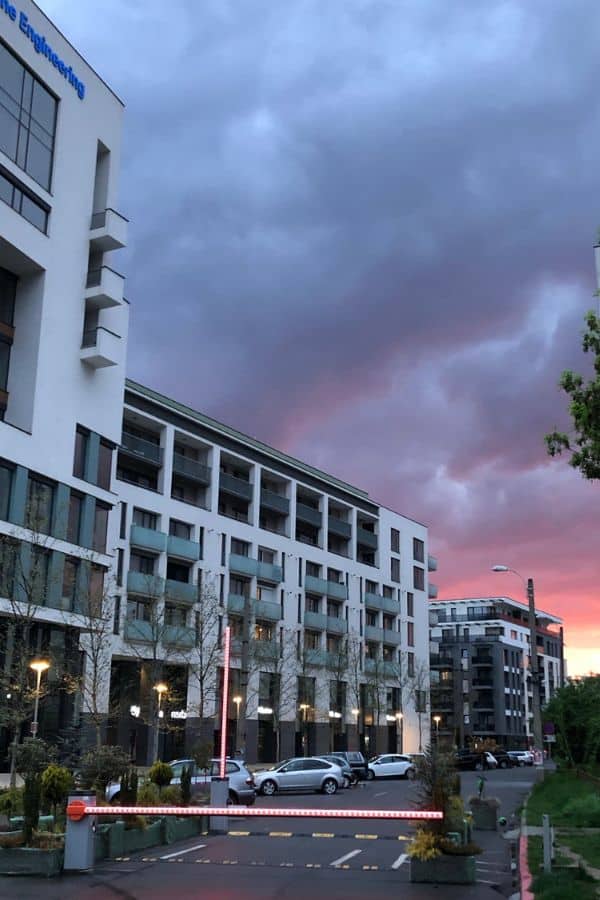 I now live in a two-room apartment on the ground floor with a yard (for our dogs) for 900 euros. Utilities (electric, gas, internet) cost between $250-$350. They used to be much less, but during COVID there was a 30% increase.
Food is about $400-$500 per month for two people, also about a 40% increase since COVID.
You can get just about anywhere in the city on a scooter in less than 30 minutes, an Uber in 15-20 minutes for about $5, or public bus in about 30 min for 75 cents.
Gas is expensive, as it is all over Europe. My fiancé has a car, but I don't know much about the process of buying one and we don't use it much unless we are going outside the city.
Movies cost about 4 euros per ticket. A local beer at a brewery is 3-7 euros. A meal at a decent restaurant is between 14-20 euros. There are also common U.S. food chains such as Starbucks, McDonalds, KFC, and Taco Bell.
I paid for a membership at a local gym for about $25/month. A 1-hour sports massage is about $20. I have a trainer for less than $20/session.
I use the magicJack app to maintain a U.S. phone number to conduct all banking and official U.S. business. The phone plan here is really cheap (12 Euros for unlimited national minutes and 250 G of data).
Do you speak Romanian? If not, is it difficult to navigate daily life?
I don't speak any Romanian and I've never had a problem. Just about everyone speaks some English and almost everyone under 35 speaks English well.
There is cable TV with English channels and all of the movies are in English with subtitles.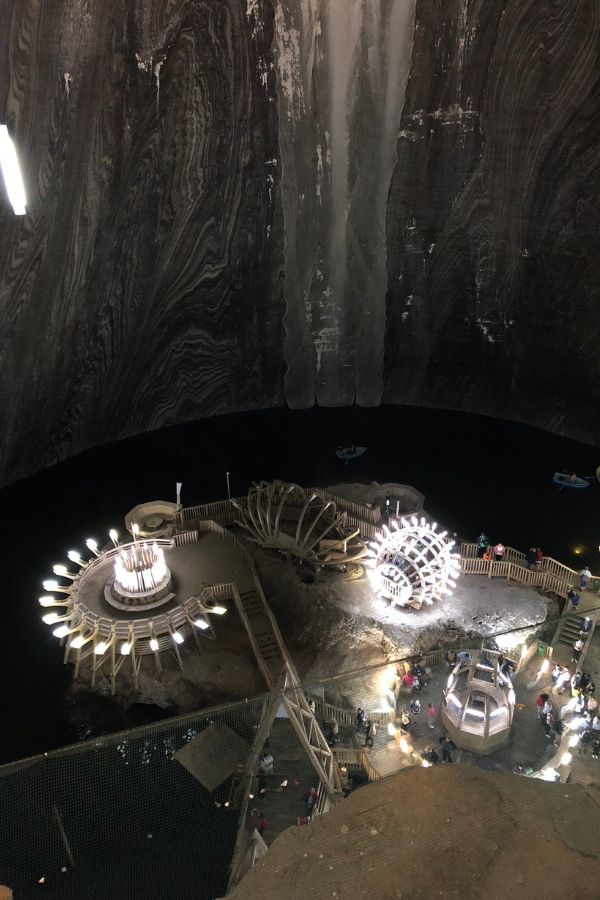 What do you do for medical care? Do you have a local health insurance plan?
For my initial visa application, I had to purchase private health insurance. After the first year, the government required that I sign up for national health insurance. Romanian health insurance is not considered very good, though I can use them if I want.
The few times I sought health care, I went to a private service called Regina Maria, which is considered one of the best in the country.
General practitioner and specialist appointments cost about $50. My specific blood test cost $20, and my sonogram and ultrasound cost about $30 each. Of course, depending on what you need to get done, this could be an expensive way to go, but nothing compared to the U.S. Everyone speaks excellent English.
I'm also on TRICARE from my military retirement. TRICARE doesn't have any network service providers in Cluj, but I can submit my receipts and file claims, though I haven't done that yet.
| Related Reading: How to Use TRICARE Overseas
I also have a VA disability, so I can use the VA Foreign Medical Program to get reimbursed for healthcare expenses that relate to my disability, but I haven't used this either.
I go back to the U.S. to visit family every year, and I use that time to get my provider to do a physical and labs. That has worked for me so far.
I had one problem when Romania came out with a digital app to track COVID and it took me about 60 days to get into the system. Other than that, I haven't had any problem and I can usually see someone in the private healthcare industry in less than a week.
Is there anything you wish you had known or done differently prior to moving to Romania?
I only wish I had a mentor to walk me through a few things with the visa.
I had spent a lot of time in foreign countries before I arrived in Romania, so for the most part, I figured everything out easily enough, and it wasn't any different than the growing pains in any other country.
(Not sure where to live overseas? Here are 24 questions to help you find your spot.)
I did try to ship a lot of things by mail from the U.S. to my address here, and I had to pay tax on everything, even the things that I already owned (clothes and books and such). So, that would have been good to know.
Tell us about your daily life in Romania!
I wake up and either walk or take public transportation to and from the gym (about 2 miles). Then, I eat breakfast and spend time with my dogs.
Around noon I start working (I'm a freelance author and editor). Most of my clients are in the U.S., so twice a week I might be on Zoom calls until 3-4 a.m., but usually I'll work until about 6 p.m. in my home office.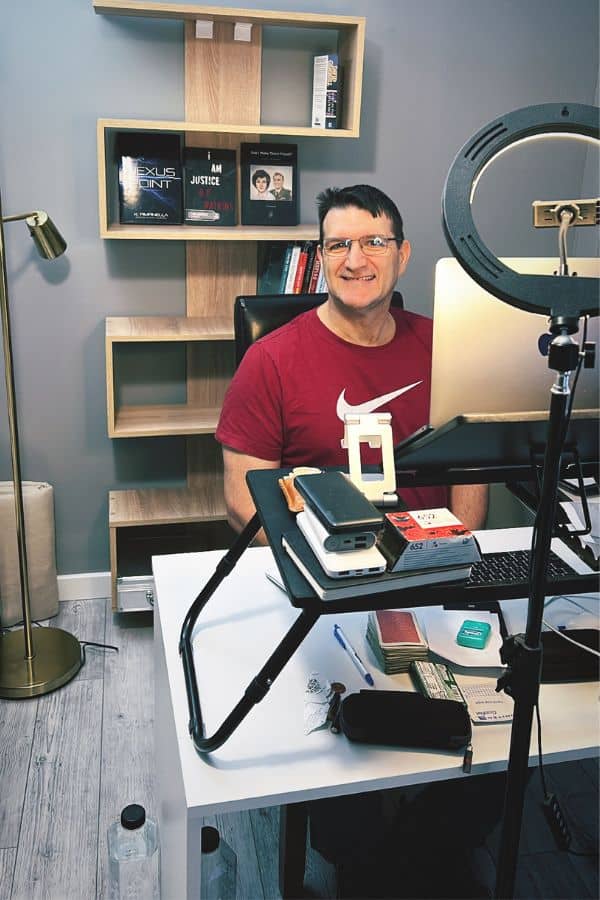 In the evenings, we'll watch Netflix or go to movies/restaurants. There are also a couple places that have live performances.
Cluj is a fairly large city with a number of open fairs, festivals, and other activities. Every month or two, we'll plan a short trip outside the country and stay at Airbnbs (we're lucky that my fiancé's parents can watch our dogs).
Cluj also has a small international airport with flights to Istanbul, Frankfurt, Milan, and many secondary airports around Europe. If your dates are flexible, you can fly to lots of European cities for 30-40 euros on Wizz Air or Ryanair.
The countryside is really beautiful here. I live in the region of Transylvania, in the Carpathian mountains. You can visit a number of Romanian castles, including "Dracula's" castle.
There are ski resorts here too, and resorts on the Black Sea. I haven't been yet, and due to the lack of great infrastructure, it would take about 10 hours to drive there.
Also, the government just initiated a walking trail through Romania called the Via Transylvania (1400 km) that is supported by hostels.
Is Romania safe?
Romania is very safe as far as crime is concerned. I have never felt at risk no matter what time or where I was going. My fiancé feels very safe in this part of the country as a woman, too.
What do you like about living overseas, and specifically, about Romania?
I really like the ease of visiting other countries. In 2019, we drove to Greece (about 14 hours) and stayed for a week. We've done numerous flights to London and France over the years. In 2021, we drove to France, staying in Italy and Croatia for a couple weeks on the way, and got an Airbnb on the coast of France for 2 months.
Everyone seems to be very relaxed as well. And you can't beat the cost of living.
I was also very surprised about the fast internet speeds. Romania is the country to which a lot of Europeans send their children to go to college because the cost of living is so low. Romania has great internet to accommodate those students.
I don't miss much from the U.S.
What are some challenges of living in Romania?
For me specifically, because the airport is so small, it's a bit expensive and time consuming to get back to the U.S. since there are no direct flights. I plan at least one trip to the U.S. each year to visit family.
The roads and highway infrastructure are pretty bad, and it generally takes a lot longer to get to places outside of Cluj by road than it should.
I don't really have any issues at all other than that, and I've been here for 4 years. Every year I stress a little on my visa applications, though I have never really had a problem.
You are planning to move to France next year – why?
I'm actually very comfortable living in Romania, but my goal was just to stay in Europe. My fiancé's dream has always been to live in France, so that is the primary reason.
In May 2021 I got a 1-year residence visa to live in France. Because I was a resident of Romania, I was allowed to apply for a French visa at the French embassy in Bucharest. It took me a week to assemble the documents, and then I got my visa a week after my interview at the embassy. I was surprised how easy it was.
| Related Reading: Expat Life in Strasbourg, France
We moved to France shortly thereafter, but 2021 was a weird year. There were lots of restrictions, strikes, and riots going on in France due to masks, vaccinations, etc. We also couldn't find a house to rent for a year, and we were required to find a permanent place to live within 3 months so that we could register with the ministry.
At 2.5 months, we gave up and said we'd come back when the world was less crazy, and we went to Croatia for a month, then moved back to Romania.
Our new plan is to move to France in spring 2024.
What advice would you give to anyone who is thinking of moving abroad? Do you have any specific advice for Romania?
I would normally encourage that you try to learn the language. The only reason I haven't so far is we always intended on moving to France, so I have been focusing on that.
I've found that my military retirement meets the minimum income requirement for a residence permit in every European country. The hardest thing is always proving that you have lodging before you send in your application.
If you want a cheap place with modern conveniences where you can live comfortably on your military retirement, then I recommend giving Romania a chance.
***
Is Romania the right spot for you?
If Randy's story inspired you to check out Romania, the best way is to rent an Airbnb or other short term apartment for at least a few weeks or months so you can experience life as a local. Use our checklist to help you find the best places.
Also, before you put the wheels in motion to move to any foreign country, make sure you can answer these 24 questions about your potential new home!
For more ideas, check out our other Expat Military Retiree profiles to read interviews with veterans living all over the world, from small towns in Europe to major cities in Asia!
Finally, if you are a member of the U.S. military community, join our Facebook group, U.S. Military Retirees and Veterans Living Overseas, to exchange advice, experiences, and information about living in a foreign country as a civilian.