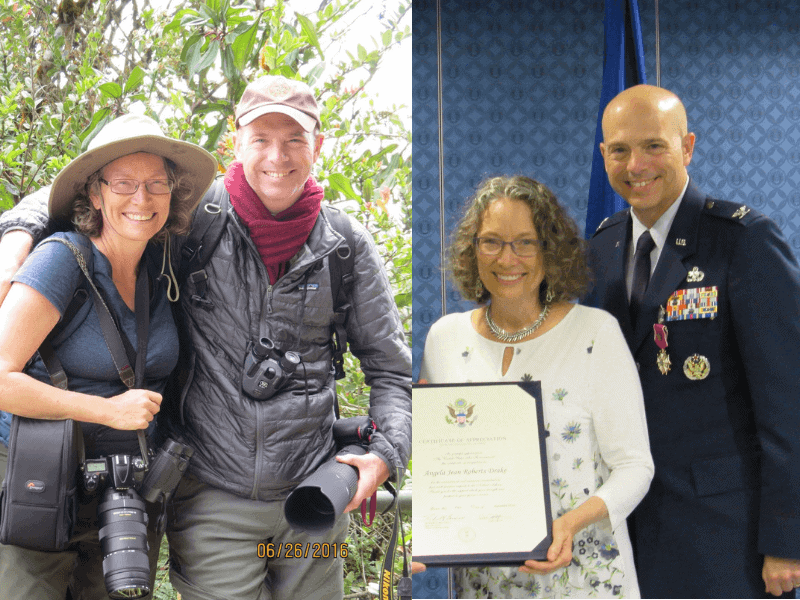 Scott and Angie Drake have just embarked on the adventure of a lifetime. Immediately following Scott's retirement from the Air Force after 28 years of service, last month they set out to spend 6 months traveling in South America.
While they plan to settle back in the U.S. next year, they are taking advantage of Scott's transition — and a little-know military retirement benefit that allows them to store their household goods free of charge — to explore their favorite region of the world and build their online business, Not Your Average American.
In this Q&A, Angie gives us the scoop on how they planned their big adventure, where they're traveling, and how they're growing a business along the way!
What gave you the idea to travel for 6 months after military retirement?
I have always loved traveling. I think I inherited itchy feet from my military father. Unfortunately, I never was able to afford a backpacking trip in college. By the time I could afford to travel, we were invested in my husband's career, so vacation time was limited.
We have always seen transition in between assignments as great opportunities for travel. Retirement is the biggest transition of all, so we decided to go big with a 6-month-or-so trip in three countries: Colombia, Ecuador, and Peru.
When did you start thinking about this trip, and when did you decide for sure you were doing it?
The truth is, the decision to travel was not set in stone until a few weeks before we left, even though I had been imagining some kind of big trip for years.
The actual setting in stone of our plans was complicated by my own health problems this year. I learned only a few weeks before my husband's terminal leave that I have Multiple Sclerosis. We just kept planning without being sure we were going to buy tickets.
The day I purchased our one-way tickets to Bogota was a huge relief.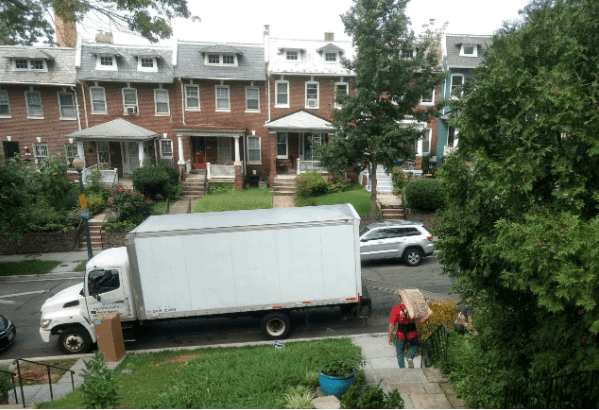 How did you prepare for this major trip, both financially and logistically?
The steps we took to prepare for this trip were pretty basic. We have been saving for retirement for a lifetime. Having money in the bank and in several investment accounts gives us a safety net that a military retirement by itself does not.
One of the little-known benefits of military service is that the government will pay to store household goods for up to one year after retirement. This benefit gives us space to breathe, to make decisions, and to travel!
Having this ability to put our belongings in storage made the process easier. It meant that we did not have to have a retirement property all picked out and ready to go. We would likely have traveled anyway, but this option made it easier and more affordable, as we are paying neither rent nor mortgage at the moment.
Did you get any naysayers for your plans to travel?
We never had anyone tell us outright that we should revisit our plans. In fact, many people expressed a desire to take a similar trip but found that there were just too many barriers in the way. The overall reaction was heartening and gave us confidence to move forward with our plan.
Tell us more about your travel plans! How did you choose those locations?
My family and I have had a long love affair with South America. A late-career tour to Argentina offered us an unparalleled opportunity to explore. We took the kids to far-flung destinations we thought we could never afford, like Arayanes National Park in Patagonia; the spectacular waterfalls of Iguazu; the highest altitude lake in the world, Lake Titicaca; and the renowned Machu Picchu.
When the Air Force decided to send us to Quito, Ecuador, the entire family was over the moon. While the assignment was a good fit for my international affairs-loving husband, it was also an excellent choice for me. I re-discovered a love for photography, for bird watching, and for travel on backroads going nowhere.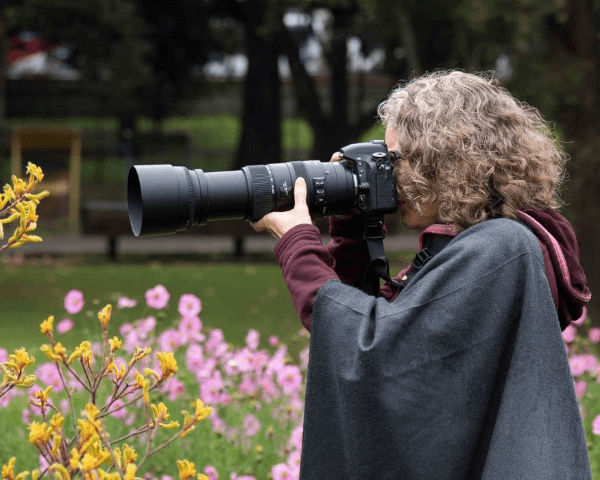 That was back in 2013. Since then, I have written almost exclusively about our experience in Ecuador. So when my husband decided to retire, and we needed to figure out our forever home, many people expected us to say Ecuador.
Instead, we've decided to move Portland, Oregon. Surprise!
However, that doesn't mean Ecuador doesn't hold a special place in our hearts. We will be returning again and again for our tourism business. For us, it makes the most sense to make the United States our permanent home and use Ecuador for shorter visits
In the meantime, we will be traveling in South America, starting in Bogotá, Colombia and ending in a few months time in Lima, Peru. Of course, we will spend the bulk of our trip in Ecuador, visiting old friends and making lots of new ones.
Do you need any special visas to stay in Ecuador for an extended period of time?
We entered Ecuador on a 3-month tourist visa. It's really just a stamp when we enter the country. If we want to stay longer than 3 months, we will need to present ourselves to the closest immigration office to request an additional 3 months.
There is a fee associated with the extension. As prices can rapidly change in Ecuador, we recommend checking the Ecuadorian Immigration website for the latest fees.
How did you pack for 6 months of travel?
Before embarking on our trip, our packing list was in flux.
Many people make the mistake of thinking that South America is all hot and humid. Some places are, like those in the Amazon Basin or along the Pacific Coast.
But we will pass through some of the highest cities in the world. For example, Quito lies at 9,300 feet. Its climate reminds us of San Francisco, with foggy evenings, cool, crisp mornings, sunny afternoons, and the occasional late afternoon thunderstorm. Quiteños like to say that they experience four seasons every day! Most of the Andes is the same.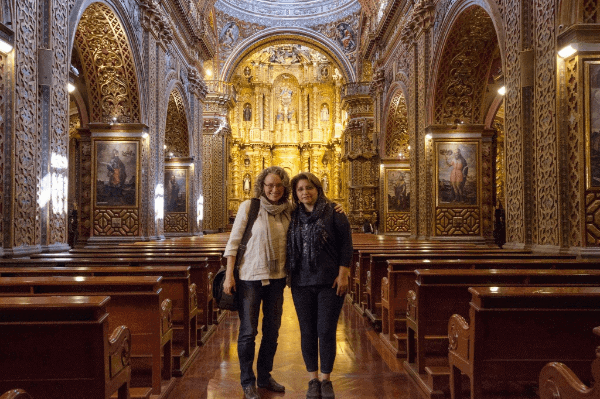 So we are packing hot and cold weather gear. We are also packing professional camera equipment and computers so that we can easily keep up with our blog.
Our days of backpacking are long gone. Neither of us can manage to carry that kind of load. However, we are traveling as light as possible, each of us taking a rolling duffle bag and a 40-liter backpack that can double as a large daypack when need be.
Did you encounter any logistical or planning issues during your preparation or travels that you think others should know about?
Our logistical problems are minor and all are related to registering a branch office for our business in Ecuador.
The logistics of post-retirement travel were relatively painless:
Visit the closest Travel Medicine office for updated immunizations (Walter Reed for us).
Enroll in TRICARE Select Overseas
Let the VA know our travel plans (because of ongoing evaluation).
Choose a place for our mail to be forwarded (family who are kindly opening our mail and emailing photos of what is important).
We already had our passports with plenty of space for new stamps.
Tell us about your online business. How does it fit into your travel plans?
Along the way, we will be promoting our business, Not Your Average American. Originally a blog about our adventures, the website has become a place to plan your trip to Ecuador. Our idea is to make trip-planning for North Americans a little easier.
We hope to attract knowledgeable local guides to use our website to advertise their services so that adventurous travelers like yourselves can find that happy medium between an over-scheduled, large group tour and a do-it-all-yourself one. We hope to grow our online forum with North Americans looking for answers about the basics and the not-so-basics of Andean travel.
Based on what you've learned, do you have any advice for other soon-to-be retirees who are thinking about doing something similar?
If your travel plans include business development, make sure to have as much of your business legally registered and in place before you travel!
If you require medical prescriptions, make sure that they are available in the countries in which you are traveling or request sufficient quantities before your trip.
Finally, if you qualify, do your VA Separation Health Assessment early so it can be submitted 6 months prior to your retirement date.
How do you like full-time travel so far?
We are a few weeks into our trip of a lifetime. We're still not sure we want to travel permanently, but the idea of traveling a few months of every year is very appealing.
If you would like to follow along (and experience the good with the bad), we have several social media channels:
Related Reading
Looking for more stories of military retirees traveling full-time? Here are a few more to get you started!
How We Decided to Travel for a Year After Military Retirement (from the creator of Poppin' Smoke)
Living Her Dream: A Military Retiree Traveling Full Time (a two-part series from a retiree who first traveled the U.S. in her RV, and then moved to Europe)
Preparing for Full-Time Travel: This Retired Military Couple is Ready to Pop Smoke! (a couple who recently sold their home and belongings to travel the world full-time)