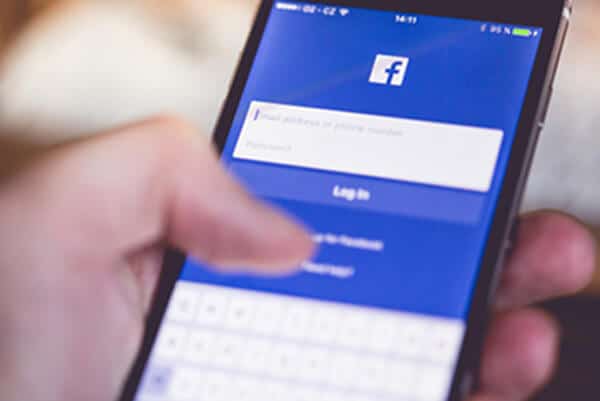 Do you know how to follow or save a discussion on Facebook? Can you adjust your settings to see Space-A flight schedules at the top of your news feed? Keep reading to learn tricks and shortcuts for using Facebook to plan your next Space-A adventure!
Space-A travel has been available to members of the military community for decades. But if you ask anyone who used the privilege 30, 20, or even 10 years ago, they will tell you it is now much easier to see the flight schedules and plan your travel. Back in the day, you had to physically visit the terminal with bags packed just to find out if any flights were departing. Nowadays, most 72-hour flight schedules are online, and there is significantly more information available to explain how Space-A works.
One of the best sources of information about Space-A travel is Facebook. If you're even thinking about flying Space-A, you'll want access to passenger (PAX) terminals' Facebook pages and to the various Facebook groups related to Space-A travel. Here are a few basics – and some things even experienced users might not know – to help you maximize the benefits of Facebook when planning Space-A travel.
Using Facebook Groups
Facebook groups are some of the best sources of information you will find about Space-A travel. This page has a list of some of the largest groups. Here are a couple tips to to help you get the most from your groups and keep discussions relevant for everyone.
Use the Search box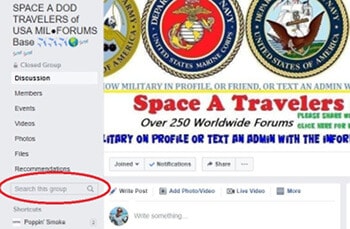 Before you ask a question, try searching the group to see if the topic has already been addressed. The search box is on the left navigation bar. After you enter your search terms, you can use the "Filter Results" section to narrow the results by date, author, and other criteria. Keep in mind that the search function in Facebook does not work as well as Google. Rather than enter your entire question, enter a keyword or short phrase. Of course, you might not find what you're looking for, or the results might be a few years old. In that case, don't hesitate to post your question. But in groups with thousands of members, there's a good chance that someone else has asked what you want to know.
Follow a discussion
If you're interested in a discussion thread, you don't have to comment "Following" to receive updates. Instead, click on the three small dots in the top right corner of the original post. From the drop-down menu, select "Turn on notifications for this post." If you decide that you no longer want to follow the discussion, go through the same steps and select "Turn off notifications for this post."
Save a post
If there is a useful discussion thread you want to access later, you don't have to copy and paste it into Word. You can save it within Facebook. Follow the directions above for following a discussion, but instead of turning on notifications, select "Save link" or "Save post." When you want to find the post later, go to your home page and look for the "Saved" link (it has a little flag next to it) in the left navigation bar. Click on that link and you will see the post and any other items you have saved.
Using PAX Terminal Facebook Pages
Most military PAX terminals have a Facebook page where they post information about recent and upcoming Space-A flights. For links to these Facebook pages, visit the Air Mobility Command website and scroll down to the list of "Social Media Sites" on the right side of the page.
PAX terminals generally share two sets of slides on their Facebook pages: one with the 72-hour flight schedule and one with a list of recent flights. I wrote a detailed explanation of the information you can find on those slides.
How can you easily find the Space-A flight schedules when you need them? Besides searching for a PAX terminal's Facebook page each time you want to see it, here are some ways to get the information quickly:
"Like" or "Follow" each PAX terminal's Facebook page
It doesn't matter whether you choose Like or Follow (if you're curious about the difference, here is Facebook's explanation). After you have clicked on either option, a PAX terminal's updates and flight schedules may appear in your news feed. I say "may" because if you have hundreds of friends on Facebook or follow many pages, the PAX terminal updates won't necessarily be at the top of your feed. If you want to ensure you see posts from a particular terminal, you can update your preferences accordingly . . .
Adjust your news feed preferences to see PAX terminal updates first
From any page on Facebook, go to the navigation bar at the top and click on the little arrow on the right side. Select "News Feed Preferences" from the drop-down menu. Click on "Prioritize who to see first." You will see a list of all of your friends and the pages you have followed or liked. Select the ones you want to see at the top of your news feed. You can change your preferences any time.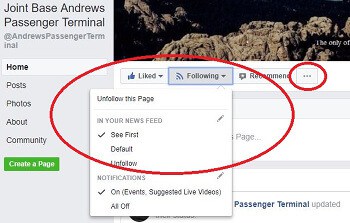 You can also visit PAX terminal pages individually and set them to appear at the top of your feed. Mouse over the "Follow" button and you will see a drop-down that allows you to select "See First" in your news feed, as shown in the screenshot on the right.
Save a PAX terminal page
If you want an easy way to get to any of your favorite PAX terminal Facebook pages, you can "save" them, similar to the way you can save posts. Visit the PAX terminal page you want to save, and click on the three dots under the main picture (as shown in the small red circle in the screenshot above). Click Save. You can access your saved pages from your home page, as described in the "Save a post" section above.
Do you know any shortcuts or tips to quickly access the information you need on Facebook? Please share them in the comments!